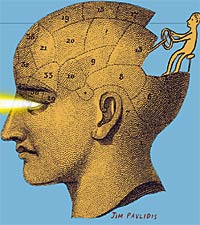 Back in the days before computers, the question of what something was worth involved a lot of intuition, instinct, feelings in the gut. Prices for everything from real estate to stocks to bread went on the basis of what people kinda thought was about right, based on the costs of inputs and guesses about what the market would bear.
Then came the
quants
.
A quantitative analyst is a person who works in finance using numerical or quantitative techniques.
No longer did you have to wonder or guess or estimate how much something was worth. You could calculate it. Identify the inputs, quantify their costs under relevant conditions, model their respective sensitivities (i.e. how much each contributing factor actually influenced the value), and - PRESTO! - you know how much something is worth. Lots of things for which it used to be impossible to assign a solid, quantifiable valuation were suddenly laid bare to the market.
How much is rain worth? What does the flu cost? What benefit is there to making people happy?
All of these yield to quantifiable analysis. When the quants get it right, things are valued properly and efficiency goes up - fortunes get made. When they get it wrong, things are overvalued or undervalued and efficiency goes down - fortunes get lost. As quantitative analysis got more sophisticated, it started looking at valuations for consumer behaviors, not just vendor goods and services.
Enter
Klout
.
Klout
is a system of measuring and valuing influence online as result of interactions on social networks, such as
Twitter
,
Facebook
,
LinkedIn
, etc. There have been plenty of
other metrics
for measuring this, or attempting to. Some, like
Twitalyzer
, persist and compete with Klout; others, like
Twinfluence
, dried up and went away. Klout has gotten a lot of heat lately, for their
corporate policies
and for their adherence
(or lack thereof)
to various laws. These are legitimate criticisms.
For some, however, Klout bears a painfully close resemblance to the
queen bee arbiters of cool in high school
. Klout is, by this thinking, run by capricious, self-appointed, evil douchebags using some secret formula to assign a number to something that every right thinking individual simply KNOWS cannot be quantified. After all, anyone could just make up some competing arbitrary metric
a priori
and apply it. It would be just as valid, no?
Well, no, actually, it wouldn't.
Meet person A and person B, Alan and Bob. Alan and Bob both spend the same amount of time on the same social network platforms. Both have similar numbers of connections, both do roughly the same amount of talking (or tweeting, posting, flapping, or whatever). Each of them has a social network, an online presence where he is known.
Now then, the big question: whose social network is more valuable? One talks mostly to his friends and family, the other talks mostly to the leaders in his chosen fields of personal and professional interest. One has a lot of acquaintances, the other has a few close friends. One retweets lots of interesting and informative links, the other is funny and original. Whose network is more valuable? And valuable for what purpose? In what context?
There's an old adage in advertising. It says that half of the money people spend on advertising is wasted, but nobody knows which half. Wouldn't it be nice to know which part of your time, money and effort was being spent effectively and which was being thrown away? I'm not talking about Walmart or Starbucks or Toyota, here. I'm talking about anybody who has something they want others to buy, such as
an anthology of well-written flash fiction
. In a focused effort at finding buyers and clients, if there were some way to know which people are a dead end and which would lead to repeated sales, wouldn't that be valuable information? If I'm trying to sell fiction, Merlot or movie tickets, wouldn't it be nice to know who are the opinion leaders in writing, wine and entertainment? Klout isn't something that just OTHER PEOPLE can use, you know. You could use it too. If you wanted to.
Klout is certainly secretive and self-appointed. Klout is certainly ranking you and selling your contact info to people who want you to buy things. Klout certainly decided what to measure and how to value each component, and they probably made mistakes in their quant model. Klout may also be evil, in much the same way that Facebook and Google are evil.
But is Klout pointless? Capricious? Arbitrary? No. That's a simplistic misunderstanding of what quants do, and how Klout is using quantitative analysis to figure out what your social network is worth.
===== Feel free to comment on this or any other post.