By the time it's finished, every good story will need structure - compelling plot, interesting characters who grow and change, etc. However, every story begins with an idea. Maybe it's specific, maybe it's nebulous, but they all start with that first concept.
The question is, how do you use that starting point?
SKELETON
I almost always take my first idea and build on it. Follow it out to a logical conclusion, expand its ramifications, find characters and voices to express the idea, pick location(s) that provide a good backdrop, etc. No matter if the final piece is 1K, 6K or 100K, deep down in the center of it is that first idea, fully integrated.
But does it have to be that way?
I've been thinking about some of the pieces I wrote part way, then abandoned. Among other reasons, it was because the story wandered so far from the original concept that I felt it had just lost its way. Without the bones to hold it up, the story can't stand... can it?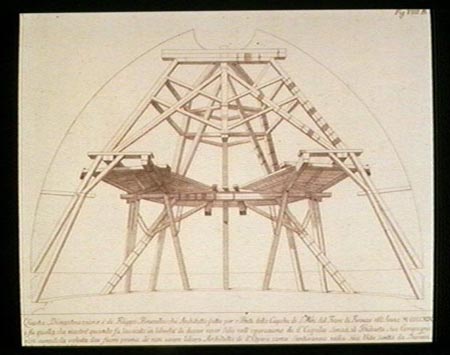 SCAFFOLDING
Many structures have temporary supports, designed to hold it up until it can stand for itself. When the mortar sets or the glue dries, the scaffolding is disassembled and taken away. The structure is usually much more graceful and beautiful for having been built this way. Great soaring arches, cathedral ceilings and huge domed atria are impossible to build without scaffolding.
What would happen to the final story if you began with the assumption that the first idea is only there to give you a way to assemble and support all the other ideas, the ones you would never otherwise have been able to work with? Could it be all the more intricate, beautiful and intricate without the central idea?
Conceptually, this is different from simply changing the skeleton from one thing to another. Great soaring structures are as much about the negative spaces they define as it is about the structures themselves. Can you think of some examples of great works of literature that allude to, encompass or even define something that isn't directly part of the story? The
Old Man and the Sea
, perhaps? Or
Great Gatsby
? Or
My Antonia
?
What are some others? Do you write using skeletons or scaffolding? Which is easier? Which gives better results?
===== Feel free to comment on this or any other post.
Images:
http://upload.wikimedia.org/wikipedia/commons/0/0e/Skeleton2.jpg
http://www.infoflorence.com/Photo/Brunelleschi/Scaffolding%20for%20the%20cupola%202.jpg