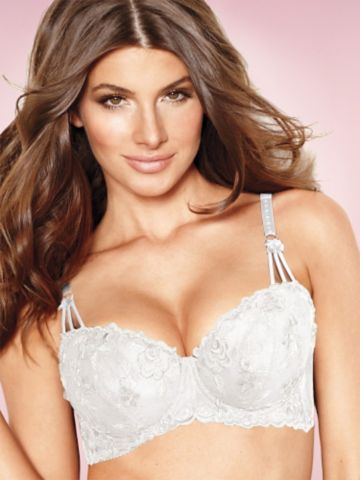 Joe Konrath has a post up in which he's proposing a
"Writer's Code of Ethics"
which addresses the issue of paying for reviews, blurbs, etc. This is deeply sarcastic, since publishing has always been a fantasy land of paid promotions,
quid pro quo
reviews, artificially hyped materials, one-hit wonders and Astroturfing.
So let's talk about deceptive marketing, shall we?
(WARNING: contains an extended metaphor relating "books and marketing" to "jiggly bits and fancy underwear". Duh.)
You know your book is great. Other people have told you your book is great. You may have made it great yourself, you may have hired other people to make it a great book. Maybe you paid the editor and cover artist a flat rate as work-for-hire, maybe they get a percentage of sales. Regardless, you KNOW readers would love to get their hands on
your junk
. Any warm-blooded reader would have a great time with your volumes, and would be sure to tell all his friends how incredible they are.
But how to attract those readers in the first place? There are so many great books out there, and there are only so many eyeballs to go around. You don't want to LIE about your book, you don't want to MISREPRESENT your book, but you don't want your book to go unnoticed, either. It would be unethical to say that your book is something other than what it is, but surely it's OK to use some creative emphasis for the things that ARE part of your book, right?
So, you decide to pay for a little bit of... packaging. You enlist some help to highlight the most enticing parts of your book and push them out where people can see them. Accentuate a few lines here, reveal a bit of plot summary there, make sure readers can see the outline of your book's attributes, and
PRESTO
, your great book is now a knock-em-dead sexy book.
"After all", you say to yourself, "once the reader gets her hands on my big, thick, long book - 115,000 words! - she won't even notice that it's not quite
exactly
the book that the reviews and blurbs led her to believe it would be. Even after the packaging is gone and my book stands up on its own merits, she'll still love it, and she'll tell all her friends about it. After that, my little bit of marketing won't be necessary anymore."
There's no padding in any of this marketing, no fabrications or deliberate untruths. You're only paying for a little... extra emphasis. That's what marketing is all about, right?
Right?
//////////////
Push-up bra image credit: "Liquid lift", by Fredrick's of Hollywood
Enhancement briefs image credit: "Shower assets", by Banglads
===== Feel free to comment on this or any other post.